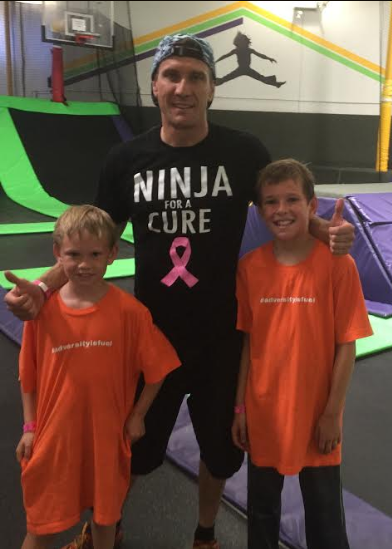 American Ninja Warrior

Mike Burke is a 42 year old animal-loving zookeeper, who resides in Temecula, CA with his 2 sons. He is looking forward to attending Reality Rally for the first time to support fund raising efforts for Michelle's Place Breast Cancer Resource Center.
Mike appeared on the most recent season of American Ninja Warrior (season 8) as a tribute to his late wife, Kaaren Burke. Kaaren passed away in February 2015 after a 5 year battle with breast cancer. Mike competed on American Ninja Warrior to celebrate his wife's warrior spirit.
Michelle's Place was an important supportive resource to Mike's family during the time his wife was being treated, so he is eager to return the support by participating in Reality Rally 2017.
Mike works as an Animal Care Manager at the San Diego Zoo Safari Park, where he met his late wife, Kaaren.
As a single parent, Mike has worked hard to to be platform for his 2 sons, Mason (11 yrs old) and Wyatt (9 yrs old) after their devastating loss. Appearing on American Ninja Warrior supplied Mike and his son's much needed momentum and inspiration to treat the adversity they have faced, as fuel to strengthen.
Mike is incredibly excited to be included in Reality Rally 2017, as he knows the experience will increase his family's momentum and support a cause that is near and dear to his heart.